GO PRO Powersports Services - NEWS
Click on the links below to see what the industry is saying about our services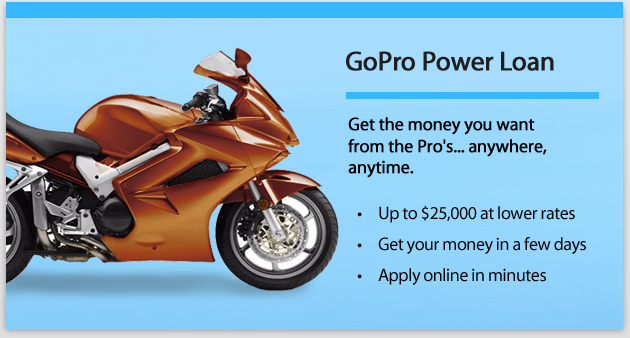 Go Pro Powersports Services offers,through it's lender network, for Independent Powersport Dealers and Franchised Dealers alike, Consumer Financing solutions for Powersports Vehicles.
With a minimum balance for new vehicles to be financed at as low as $500.00, we have programs to fit the needs of today's powersports buyer and a maximum loan balance of $2.7MM that will meet the needs of those seeking a higher thrill factor.
GPPS also offers a solution for the Pre-Owned vehicle buyer too, with the same minimum and maximum loan terms.
Special Programs for well qualified buyers include Zero Down/No Interest for 90 or 180 Days.
Types of units financed: All vehicle types (ATV,UTV,On-Road Motorcycles,Off-Road Motorcycles,PWC....and more) and all brands (American,Japanese,Chinese,Euro,Italian...and more) New and Used with some programs regrdless of age of the vehicle.

Range of loan amounts: $500 to $2.7MM.

Range of term: 24 to 96 months, depending on the financed amount.

Zero Down
No Interest for 90/180 Days and up to 24 Months with Interest Free


Other: There is no recourse back to the dealer.
Loan stipulations vary per applicant.
Sportbikes-Some Loans do not require full-coverage insurance.
We communicate with dealers through phone,email,fax, and Socially via the Web.
Instant Approvals with a max 30 Minute Decisioning Objective
We are open Monday through Saturday, 8 a.m. to 8 p.m.
* All loans subject to credit approval according to each individual Lender's Guideline and Requirements
Call now-669-900-2108
Motorcycle, ATV, UTV, PWC Financing with Liability Insurance Only
Get benefits FAST!
Once enrollment and registrations are complete your customer fills in the application on-line. Once financing is approved, you are notified by fax and email, you log in,finalize and print the completed contract and supporting documentation,the customer signs it, you send it in for funding. It's that easy!
If it has handlebars-
we have a solution to finance it.
TAGS
POWERSPORTS,MOTORCYCLES,FINANCING,LOANS,ATV'S,SCOOTERS,UTV'S,JET-SKI,SEA-DOO,SNOWMOBILE,NINJA,CBR,YZF,R-1.R-6,GSXR,ZX,PRIME,SUB-PRIME,GOOD CREDIT, BAD CREDIT,NO CREDIT,FIRST TIME BUYERS,SPORT BIKE,CRUISER,MOTOCROSS,SUPERCROSS,ROAD RACING,FLATTRACK,ENDURO,CROSS COUNTRY,NEW,USED,PRE-OWNED,DIVORCED,BANKRUPTCY,APPROVED,DEALERS,INDEPENDENT,FRANCHISED